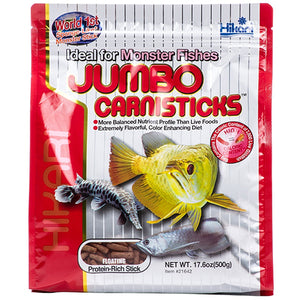 Hikari Jumbo CarniSticks - Floating Fish Food
MPN:
21642
A scientifically formulated diet for larger top feeding fish, like arowana and other monster fish, that takes on a live-fish-like texture when put in water. An extremely flavorful, color enhancing diet with more balanced nutrient profile than live foods without the fear of parasites or bacteria issues.
Can completely eliminate the need for live fish feeding
A unique blend of proteins, carbohydrates, fats, vitamins, minerals and amino acids all perfectly balanced to offer a daily diet most larger top-feeding carnivores love
Free of unwanted parasites and bacteria which are common hitch hikers with most live foods
Higher levels of carotenoids promote the development of brilliant colors not common in carnivorous fish kept in an indoor aquarium void of natural sunlight
Absorbs water rapidly taking on a texture of a live fish
A highly flavorful, easily digested nutrient mix
Contains stabilized vitamin C to support immune system health
Each stick offers the caloric equivalent of approximately one live goldfish
FEATURES
A jumbo stick developed to stimulate fish normally fed live foods that will completely satisfy their hunger.
The shape and makeup of this stick is unique in that it will absorb water quickly and take on the pancake-like consistency of a live food while retaining its visually desirable shape.
Advanced research and bio-technology allow us to make this highly nutritious diet which supports rapid growth, proper form and vibrant coloration.
No risk of contamination from harmful parasites or bacteria common with live food feeding.
Finally a large sized stick that efficiently provides the required energy for the biggest eaters.
 Guaranteed Analysis
Guaranteed Analysis
Crude Protein (min.)
40.0%

Crude Fat (min.)
4.0%

Crude Fiber (max.)
3.0%

Moisture (max.)
10.0%

Ash (max.)
14.0%

Phosphorus (min.)

1.0%

Vitamin A (min.)
19,000 IU/kg
Vitamin D3 (min.)
2,800 IU/kg
Vitamin E (min.)
2,000 IU/kg
Ascorbic Acid (min.)
mg/kg
---
We Also Recommend
---