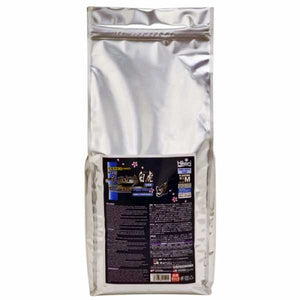 Saki - Hikari Pure White Shiroji Maintenance - Floating
MPN:
42437
A professional use, supplemental daily diet intended to help finish the Shiroji (white) of your championship-grade koi while enhancing the depth and brilliance of the skin. 
Contains our proprietary "Hikari-Germ" a live (viable) naturally occurring microorganism (probiotic) and a uniquely blended ingredient mix offering extremely efficient nutrient utilization

A uniquely balanced diet rich in the necessary nutrients to support immune system health

Contains a traditional Japanese health food ~ extract of pickled Japanese apricot, which naturally contains Apricot- Polyphenol and higher levels of Citric Acid and support efficient metabolism in Nishikigoi, an important first step in developing desirable Shiroji (white area)

Includes Milled Sesame Seed which is high in antioxidants koi can utilize and helps improve skin gloss and luster

The "Hikari-Germ" remains active in the waste making it more powder-like and easier for your biological action to decompose due to the higher surface area

Excellent for finishing the Shiroji of koi and perfect for use following Saki-Hikari® Deep Red™ feeding

FEEDING: Use of Saki-Hikari Pure White with our other Saki-Hikari diets is recommended to experience the maximum Hikari Germ effect. The use of color enhancing diets will reduce the impact of Saki-Hikari Pure White.
Above 64°F - Feed two to four times daily based on the activity level of your koi.

Between 54°F and 64°F - Feed  two to four times daily based on the activity level of your koi. For best results, try to feed during the warmest part of the day.
Between 41°F and 54°F - Carefully regulate the amount fed based on the activity level of your koi and your pond conditions. Extreme care should be taken to avoid over-feeding in this temperature range.
Guaranteed Analysis
Guaranteed Analysis
Crude Protein (min.)
37.0%

Crude Fat (min.)
5.0%

Crude Fiber (max.)
1.5%

Moisture (max.)
10.0%

Ash (max.)
15.0%

Phosphorus (min.)

1.2%

Vitamin E

7,000 IU/kg min.

Vitamin A

19,000 IU/kg min.

Ascorbic Acid (min.)

9,900 mg/kg

Vitamin D3

3,800 IU/kg min.

B. Subtilis (min)

1,0x10

6

 CFU/g
Product Info
|  Item | Size | Pellet Size |
| --- | --- | --- |
| 42437 | 11 lbs | Medium Pellets 5.0-5.5mm |
| 41522 | 33 lbs | Medium Pellets 5.0-5.5mm |
---
We Also Recommend
---