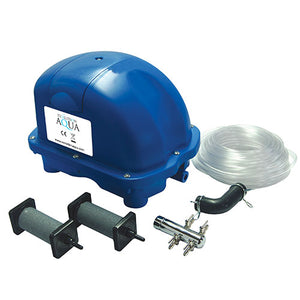 Evolution Aqua Airtech Air Pump Kit
MPN:
AIRPUMP70
The Evolution Aqua Airtech air pump range provides high-performance diaphragm air pumps for all fishkeepers. The range was purposely developed for fishkeepers to deliver that essential element into their ponds - specifically air. They have been tested and proven to provide the highest output at any given depth, to be economical to run and to be totally reliable. Well engineered, robust and durable, every unit has thermal protection fitted as standard.
They are designed to both aerate ponds and be used in combination with the Nexus 220 and Nexus 320 Filtration systems. These high-performance pumps are thermally protected so won't overheat and are designed for use in the outdoors and will provide consistent levels of oxygen in ponds. As we all know, oxygen is vital to all aquatic inhabitants whether they are Koi, goldfish, tropical/marine fish or bacteria. 
Product Info
---
We Also Recommend
---