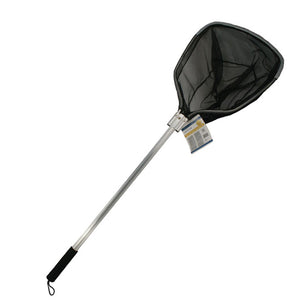 Aquascape Pond and Fish Net
MPN:
50000
AquascapePRO® pond nets are designed and built for professional pond maintenance crews. Heavy-duty 3-foot handle collapses for storage, allowing the net to be safely transported from one pond to the next.
Professional Grade Pond & Fish Net is great for removal of large fish and a variety of debris.
Soft coarse mesh will not damage fish fins and scales.
Lightweight and durable frame and handle.
Protective strips prevents net damage.
Net Dimensions:  approx. 20" x 17" x 12" deep
Handle Length: 36"
---
We Also Recommend
---