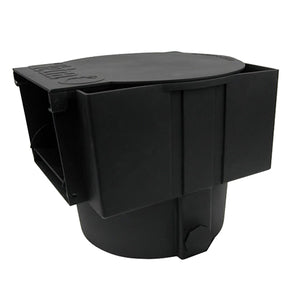 Tetra In-Pond Skimmer
MPN:
26562
excludes media
The TetraPond In-Pond Skimmer removes debris from the water's surface and protects pumps from clogging. It is easy to install and clean, and easily attaches to TetraPond Water Garden Pumps 550, 1000, and 1900 GPH.
The Tetra In-Pond Skimmer features 4 corner pockets for filling with gravel to keep the skimmer from floating, convenient access lid for cleaning, debris collection basket, fiber pad that filters particles from water, weir door that adjusts to pond water level for maximum surface cleaning, and a plug for the opposite side. For use in pre-formed and flexible liner ponds.
Features:
For ponds up to 1000 gallons
Use with pumps 550 to 1900 gallons per hour
Protects pump from clogging
Internal basket with handle
Easy to clean
Removes debris from water surface
Includes 3ft of 1-1/4" Hose and adapters to connect to intake of pump
Easily attaches to pumps that have a threaded intake
Special Notes:
Pump does NOT fit into skimmer
Skimmer must be placed into pond
Product Info
|  Item | PDF | Weir Size | Rec. Pump Flow (gph) | Dimensions | Filtering | Max Pond Size |
| --- | --- | --- | --- | --- | --- | --- |
| 26562 | | Self-Adjusting | 550-1,900 | 13.5"x10.5"x9.7" | Debris Basket, Fiber Pad | 1,000 gallons |
---
We Also Recommend
---