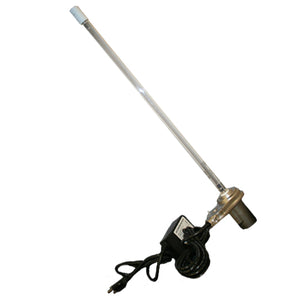 Savio UVinex - UV Clarifiers
MPN:
SUV018A
Savio's 2nd Generation UV Clarifier is the product of nearly 2 years of R&D. Introducing the latest breakthrough in clear water technology - UVinex. Safe chemical free algae control in a sleek, new design exclusive to Savio. Coated bulb technology does away with fragile glass sleeves and is virtually maintenance free - simply wipe clean with a damp cloth to restore full effectiveness.
UVinex provides unparalleled water clarity for your pond. UVinex offers a safe, chemical free solution for eliminating green water. By adding a UVinex system, you will enhance the filtration capabilities of your Savio Skimmerfilter.
Product Info
|  Item | PDF | Lamp | For Use In | Max Pond Size | Max GPH | Cord |
| --- | --- | --- | --- | --- | --- | --- |
| SUV018A | | 1 x 18W | Compact Skimmerfilter | 2500 | 2000 | 12' |
| SUV026A | | 1 x 26W | Full-Size Skimmerfilter | 3000 | 2500 | 12' |
| SUV050A | | 1 x 50W | Full-Size Skimmerfilter | 5000 | 4750 | 12' |
Video
---
We Also Recommend
---