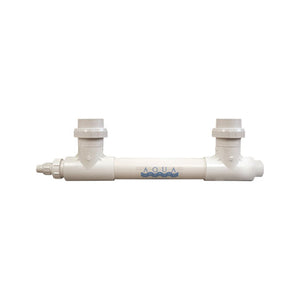 Aqua Ultraviolet SL Series Sterilizer
MPN:
A00194
The SL Series UV Sterilizer is the premium choice for large or industrial size applications, water sterilization up to 17,000 gallon ponds. When used as a sterilizer it will control the amount of harmful bacteria in your pond creating a healthier environment for your ponds ecosystem. When using this unit as a clarifier it will clear ponds up to 25,000 Gallons size with 50% to 75% plant coverage.
All SL Models offer 3" Inlet/Outlet.
California residents will be charged 7 3/4% sales tax.
Aqua Ultraviolet does not recommend utilizing Wipers with Salt Water and if utilized in this manner will void any warranty on the Wiper
Product Info
|  Item | PDF | Max Pond (Sterilizer) | Max GPH (Sterilizer) | Max Pond (Clarifier) | Max GPH (Clarifier) |
| --- | --- | --- | --- | --- | --- |
| A00194 | | 10,000 | 6,600 | 20,000 Gal | 13,000 |
| A00268 | | 10,000 | 6,600 | 20,000 Gal | 13,000 |
| AS90201 | | 15,000 | 9,200 | 30,000 Gal | 22,000 |
| AS90200 | | 15,000 | 9,200 | 30,000 Gal | 22,000 |
| AS90202 | | 15,000 | 9,200 | 30,000 Gal | 22,000 |
| AS90203 | | 15,000 | 9,200 | 30,000 Gal | 22,000 |
---
We Also Recommend
---