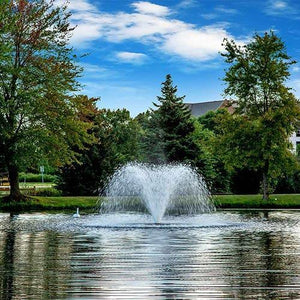 Scott Aerator North Star Fountain Aerator 1 1/2 HP 230 Volt
MPN:
14026
The North Star Fountain Aerator adds an elegant, trumpet-shaped water feature to any pond or lake along with powerful aeration, debris reduction and reliable algae control.
The powerful North Star moves an impressive 600 gallons of water per minute, creating a strong surface current to help oxygenate water and eliminate algae and debris. Perfect for commercial, residential, and municipal applications, the North Star not only shines in the daytime landscape, but can also star after dark with a lighting option. You can order and add it now or at a later time.
Contact us for additional power cable length.
Features:
230-volt, 1½-hp, oil-free motor.
600 gallons-per-minute flow rate.
Spray pattern measures 12 feet high, 18 feet wide.
Electric cable provided is 100 feet long, 12-gauge submersible.
Electric cable can be ordered in greater lengths.
Light kits can be added at purchase or later.
Approved for use in salt water.
Two 40-pound weights or concrete blocks required for anchoring (not included).
Two nylon ropes required for anchoring (not included).
Designed for 24-hour-per-day operation.
No maintenance required.
36-inch minimum pond depth required.
Pond size should be 1/8 acre or larger.
Motor specs: 60 Hz, single phase, 10.6 amps, 1780 watts.
Also available with 3-phase motor.
Also available with 50-Hz motor.
---
We Also Recommend
---